Vinyasa yoga
Vinyasa yoga can be described as a form of yoga often included with yoga courses in Kolkata that includes multiple postures that are stringed together that helps you to move easily from one posture to another using breath. It is often referred to as the "flow" yoga and confused with the concept of "power yoga". Vinyasa classes can present you with numerous postures of which no two classes function or look alike.  Such a variable nature of the Vinyasa Yoga can help in developing a balanced body and prevent any kind of repetitive motion injuries which can affect you provided you always do the same movements every day.
Vinyasa Yoga Philosophy
When it comes to philosophy, the Vinyasa yoga recognizes the transitory or temporary nature of all things. Therefore we perform a particular posture, then remain in it for some time and finally leave. Although Vinyasa, or the Vinyasa-Karma goes back to Vedic age which is the earliest era of yoga many thousands of years before, the discipline referred to a sequence of steps or series that can make something sacred. The Vinyasa movement and practice is believed to have started with T Krishnamacharya, a man who had the most important influence on the way yoga methods in general are practiced today. Vinyasa is mainly a breath-initiated practice which can connect each and every action that we perform in our lives with the sole intention of approaching what is sacred and most important to all of us.
Distinct elements of Vinyasa Yoga
Even though Vinyasa Yoga is regarded with great value these days in yoga training institute Kolkata West Bengal, it is still not well understood. Here are the primary characteristics that define Vinyasa Flow Yoga.
Vinyasa Yoga effectively connects a single posture to another with the help of breath. It can also be described as flowing into or linking postures and it is for this that Vinyasa yoga is often called "Flow Yoga". Therefore the opposite of such a method of doing yoga would be to be a part of an alignment oriented class where the students perform a posture, then explore it for some time and finally break away from the posture once it is done.

It is "transitions" that connect multiple postures in Vinyasa together. They serve as in-between parts. However, what is not appreciated in many cases is that these transitions are also considered postures by themselves. In order to move more gracefully, it is important that you allot sufficient time in developing the skills of the transitions as the asanas & sequence themselves.

Move your body with breath as it is breath that initiates all movements associated with Vinyasa flow yoga. It is, for this reason, this form of yoga is often called "breath-synchronized" practice.

Vinyasa yoga is also synonymous with movement. Therefore it is important that you move in and out easily of postures. Even though that is the main and obvious movement, even in stillness the Vinyasa form of yoga is represented by beats of the heart as well as the inhaling and exhaling of breath. The poses of Vinyasa yoga focuses on alignment of the physical movements with the breathing process.

In this yoga, the breathing technique that is used is Ujjayi Breath. It is done simply by inhaling/exhaling in rhythmic manner with the nose. It produces a strong sensation of relaxation and helps one to achieve true inner peace and calmness.

The breathing patterns in this form of yoga also help to connect one type of pose with another. The practitioner smoothly flows from one form of yoga into another in order to reap the best results.

The good thing about Vinyasa yoga is that there are numerous variations of poses, which means that the practitioner never has to worry about getting bored. In most cases, the sun salutations form an integral part of the Vinyasa yoga.

Through Vinyasa yoga, the practitioner can develop strong awareness of the body and its various movements. The external movements that form the core of this form of yoga serves as an intimate expression of the way a practitioner thinks and feels in daily life.

Vinyasa yoga is ideal for a cardio workout.
References
Click Here
Click Here
Click Here
Click Here
Click Here
Click Here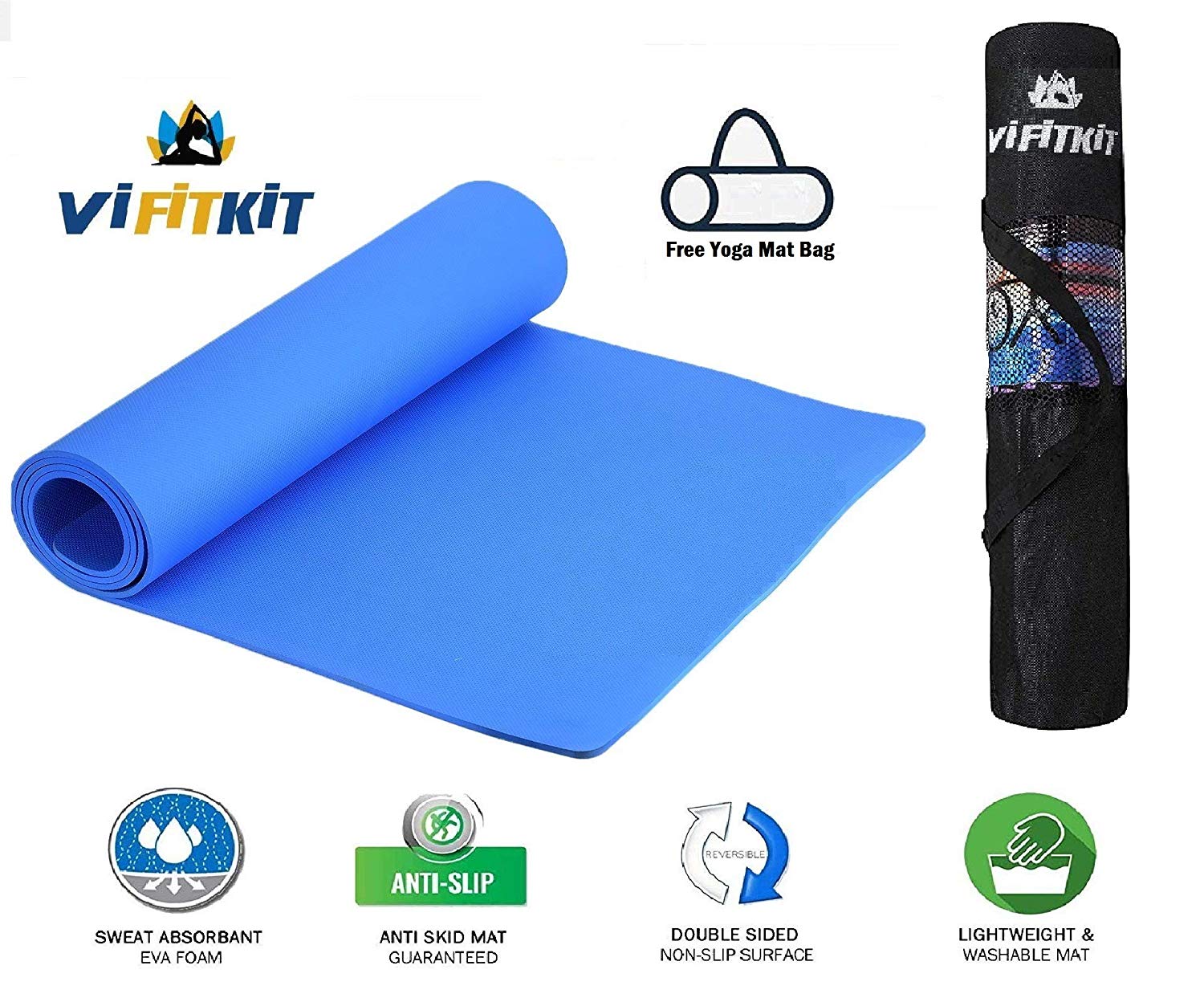 VI FITKIT Yoga Mat Anti Skid EVA Yoga mat with Bag for Gym Workout and Flooring Exercise Long Size Yoga Mat for Men and Women (Color - Blue)
Price: Rs 399.00 FREE Delivery.
Details
Buy Now
About The Product
With high density foam material, The thick ( 3 mm thick ) premium mat with comfort cushion spine, hips, knees and elbows on hard floors. This makes it a perfect size for both men & women.
SWEAT RESISTANT AND WASHABLE YOGA MAT - Next time don't stress when you sweat while doing yoga. The yoga mat is completely sweat resistant and has a Moisture resistant Technology which makes the mat easily washable with soap and water.
This Yoga Mat is designed to give you the most comfortable yoga experience possible. The extra thick mat protects joints without compromising support or stability
DURABLE & ECO FRIENDLY YOGA MAT - The EVA material is extremely durable and eco friendly. It lasts upto 5 times more than a regular plasticky mat! The material is biodegradable and free from PVC, silicon, latex and other toxic materials. We believe in creating quality and Eco friendly products for our customers!
Care Tips: Do not place in washing machine or dryer, Please clean before and after using, clean regularly and keep it dry for healthy using.
Pages
Categories