Dhanurasana
Dhanurasana is an important form of stretching and strengthening asana that is included in Hatha yoga literature. When practiced regularly, the asana can improve the functioning of the thorax, abdomen, ankles, thighs, throat and groin areas. It is also known as the Bow Pose due to the shape taken by the body while performing the asana.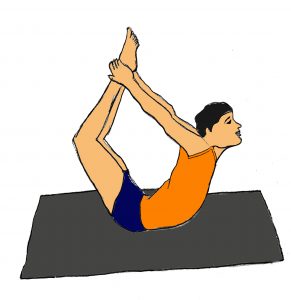 Dhanurasana

Steps of Dhanurasana
These are the steps that you need to follow while performing Dhanurasana.
Lie down on the floor with your stomach to it. Maintain a width between your two feet and put your arms right beside your body.
Fold your knees gently and try to hold your ankles.
Inhale deeply while you lift your chest up along with your legs.
Pull your legs upwards and back with both your hands.
Look straight as you look to perform this asana.
Hold the pose while you try to concentrate on your breathing. Keep your body perfectly taut and steady as a bow.
Keep on breathing long and deep while you get more comfortable in this pose.
Stay in this pose for about 15 to 20 seconds
Finally exhale and get back to starting position.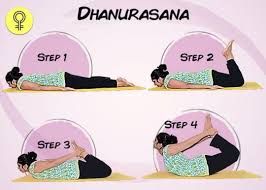 Step images of Dhanurasana
Preparatory Poses associated with Dhanurasana
These are the main preparatory poses that must be practiced before Dhanurasana.
Salabhasana
Bhujangasana
Virasana
Supta Virasana
Sarvangasana
Setu Bandhasana
Urdhva Mukha Svanasana
Follow up poses
Practice these follow up poses after performing Dhanurasana.
Ustrasana
Matsyasana
Urdhva Dhanurasana
Urdhva Mukha Svanasana
Setu Bandha Sarvangasana
Performing Tips
It is important that you do not stress yourself while trying to master the pose of Dhanurasana. Make sure that you listen to your body and ease into the process, giving your body the time it needs to get used to it. Ideally, you should practice this asana during the early morning hours. However, in case you are not able to do that, evening hours should work just fine as well. It is important that you maintain a gap of at least 4 to 6 hours before you perform this asana. You should also keep your bowels perfectly empty.
The science of Dhanurasana
Dhanurasana actually helps you to strengthen your spine while at the same time making it flexible. It has been believed since ancient times that a flexible spinal cord helps to keep the body flexible, young and energetic. The spinal cord is believed to be the most important component of the body and has subtle but powerful energy flowing through it. Dhanurasana works to enrich the source of your life and keeps your back perfectly flexible and strong.
Benefits of Dhanurasana
These are the main benefits of practicing Dhanurasana on a regular basis.
This asana is great when you are looking to strengthen your abdominal muscles and the back.
Dhanurasana can help in widening and opening up your chest, neck and the shoulders.
It can effectively stimulate your reproductive organs.
Your arms and legs muscles can get toned with this asana.
Dhanurasana adds great flexibility to your back.
It can work wonderfully to get rid of your stress.
This asana is perfect for people who are affected by renal disorders.
Menstrual discomfort can be eased when this asana is practiced regularly.
The asana can help in losing weight.
It improves the shape and functioning of the thigh and buttocks muscles.
It is ideal for men and women suffering from kidney problems.
The asana can help in cleansing the whole body.
It promotes smooth blood circulation throughout the body.
The asana can enhance the overall breathing process and get rid of breathing problems like asthma.
Dhanurasana can calm the mind and increase concentration power.
It helps in regulating and toning the pancreas and stimulates proper secretion of insulin and glucagon in their correct amounts. This also helps to maintain the blood sugar balance.
Precautions and contraindications associated with Dhanurasana
These are the main precautions and contraindications related to Dhanurasana.
Pregnant women should not practice this asana.
Do not practice this asana if you are suffering from low or high blood pressure, a hernia, painful sensations around the lower back area, insomnia, headaches, migraines and neck injuries
It is best to avoid this asana if you recently had abdominal surgery.
So now that you have learned about Dhanurasana, go ahead and practice it regularly to boost your physical health.
YouTube links
References