Padahastasana
Padahastasana is a forward bend asana which is also referred to as Hand under Foot pose. It can help you to make your spine flexible while toning up your back, legs, and abdomen. This makes it a great yoga for a beginner. It is a form of Hatha yoga that is also a part of the Sun Salutation yoga. The asana is highly recommended by yogic experts due to the wide range of benefits that it has to offer. So read on to find out more about Padahastasana and the benefits that you can obtain from practicing it regularly.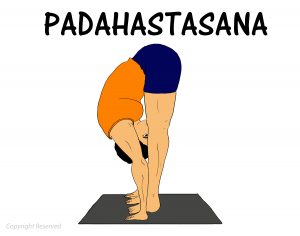 Padahastasana
Padahastasana steps
Learning how to do hand to leg pose is crucial when you are looking to perform this asana. There are two different methods by which you can practice Padahastasana. We will describe each one of them in brief.
Padahastasana method 1
First, stand straight and keep your body in one single line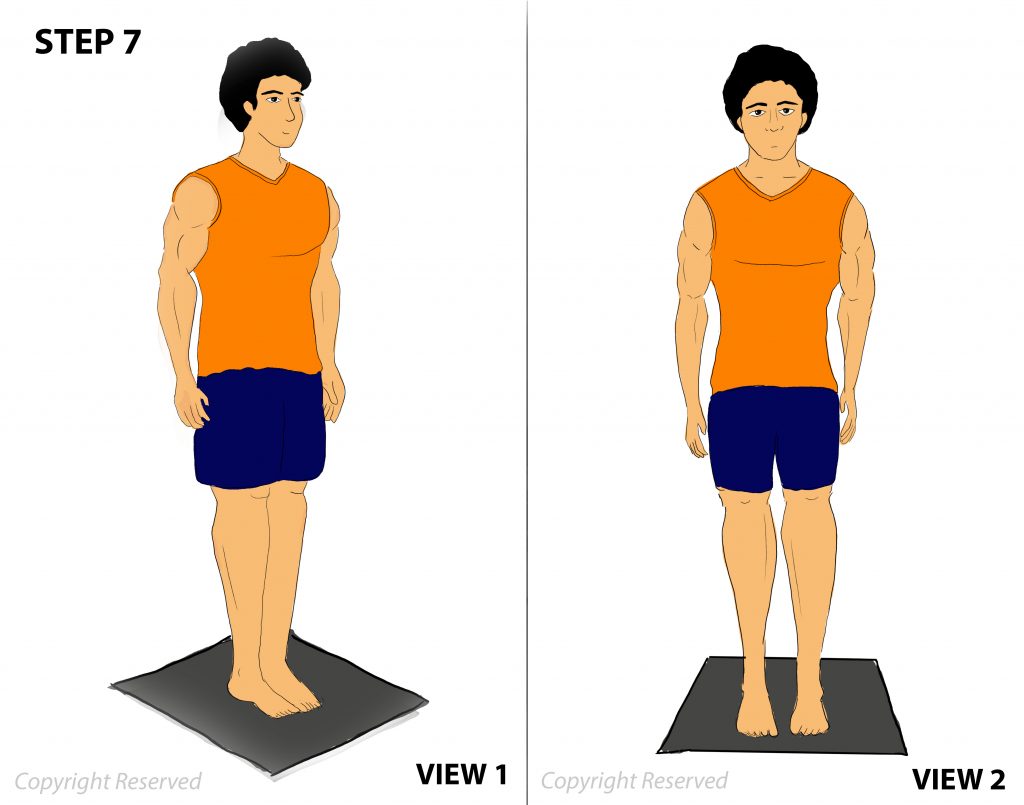 padahastasana step-1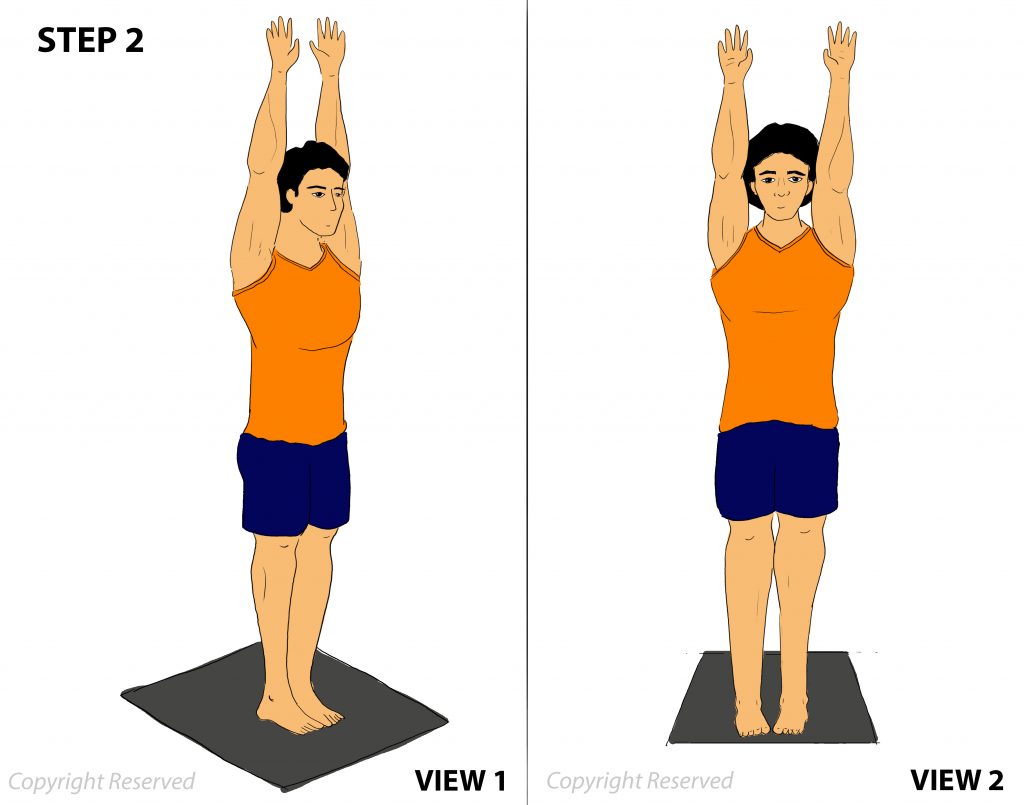 padahastasana step-2
Stretch the hands upwards as far as you can.
Do not bend the neck forward while stretching.
Gently turn both your palms forward.
Now start to bend your body forward with the lower back as you slowly exhale.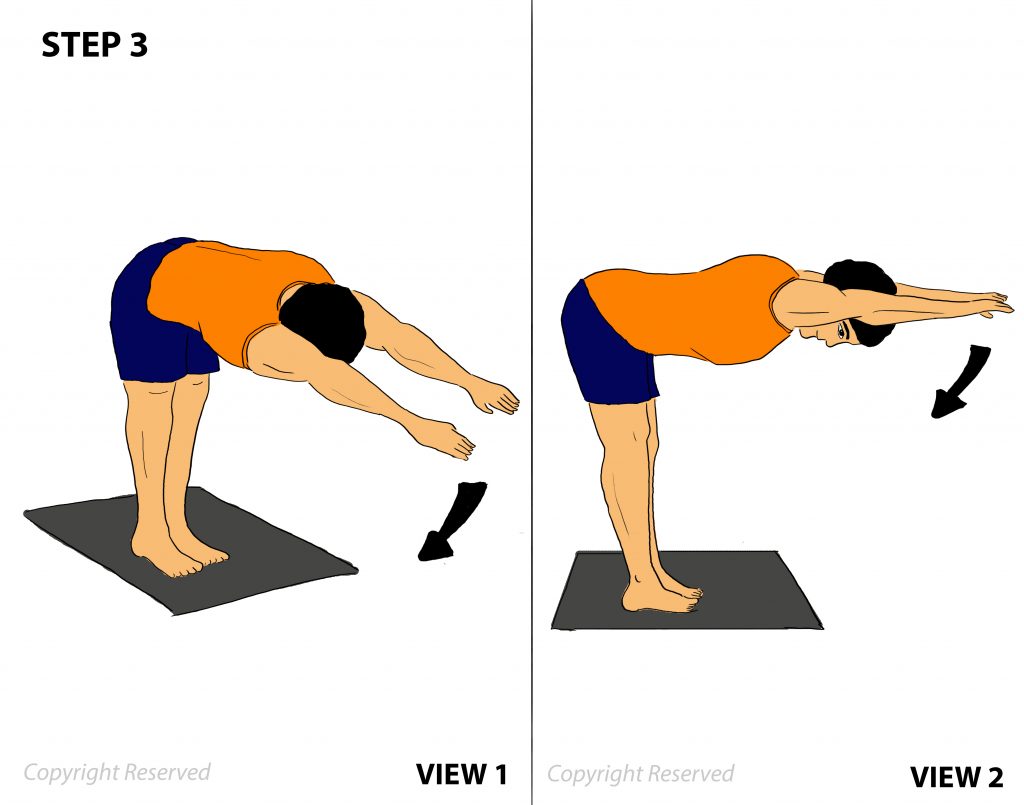 padahastasana step-3
Keep legs straight and make sure that you don't bend the knees.

Keep your hands and whole back in a single line as you make a 90° angle with your upper body and your legs.

Keep bending forward and touch your abdomen with the thighs. Next, touch your chest with your legs.

Now keep both of your hands, palms facing down, beside each foot respectively and then touch your forehead gently to the knees.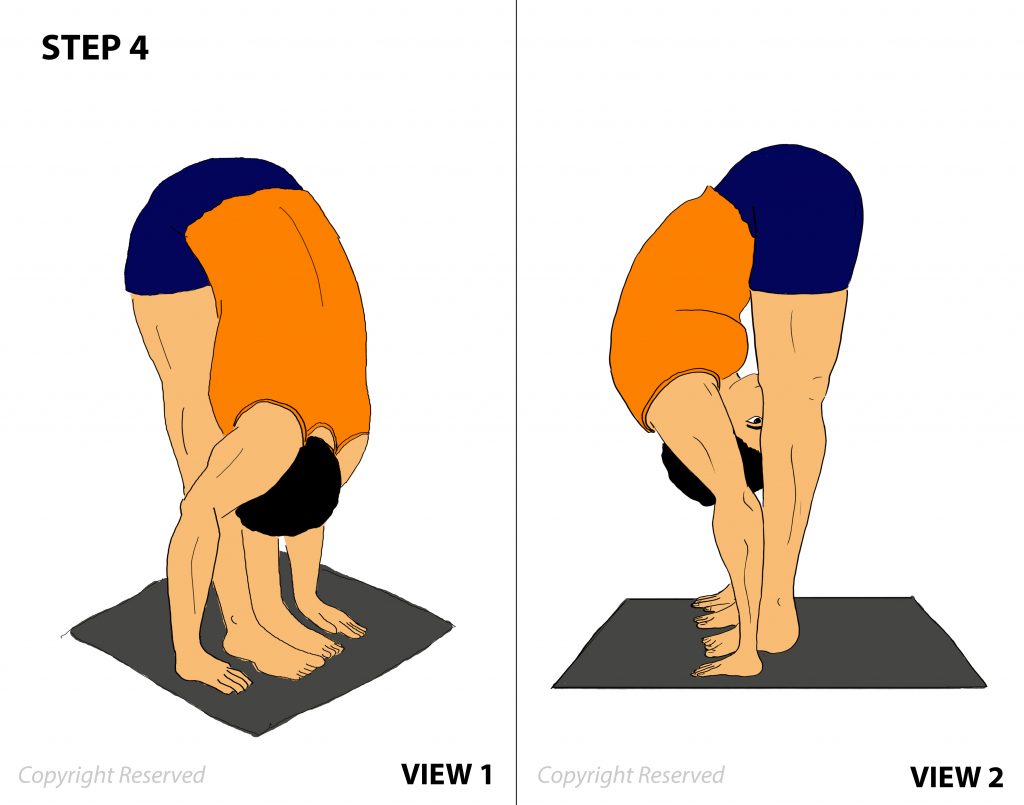 padahastasana step-4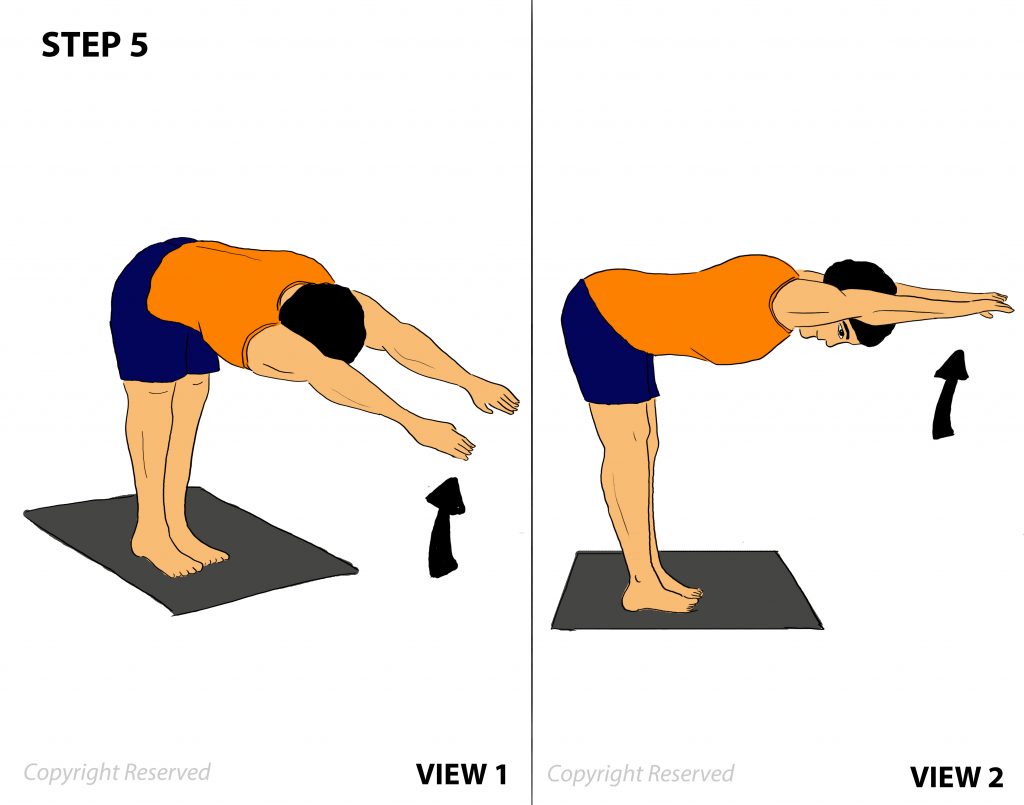 padahastasana step-5
While inhaling slowly, gradually start lifting your body up and then stand straight.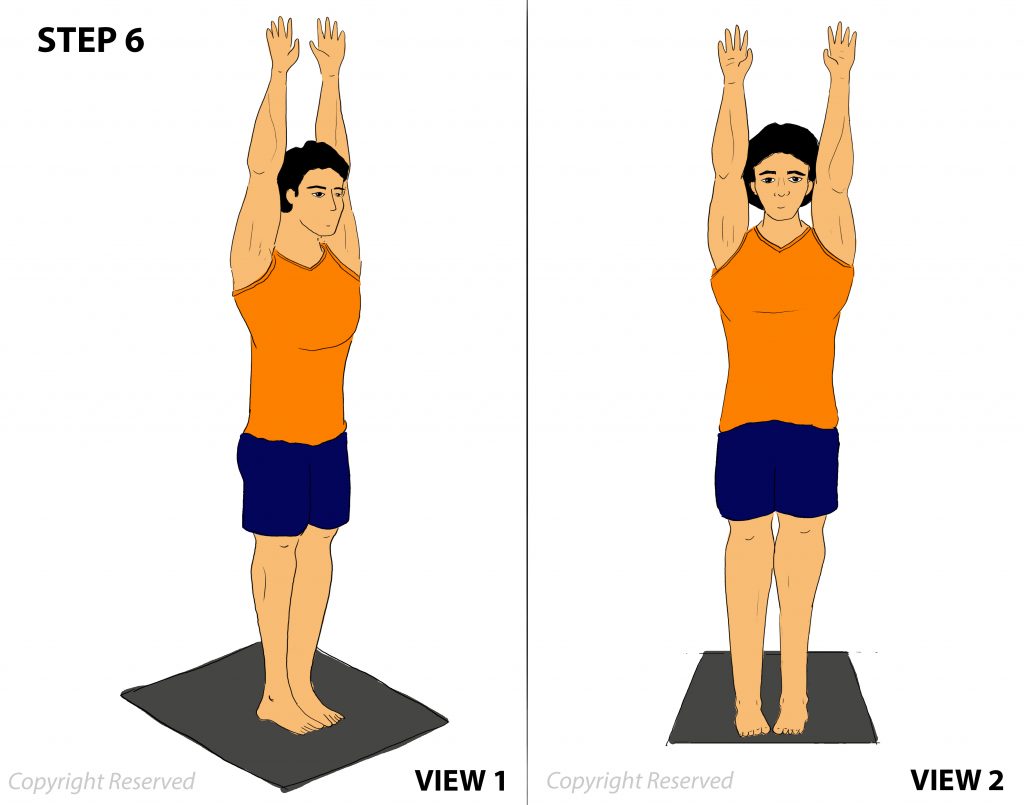 padahastasana step-6
Keep the hands perfectly stretched upwards with the biceps closely touching your ears.
Start exhaling slowly and bring your hands back down while you keep the palm gently on the thighs.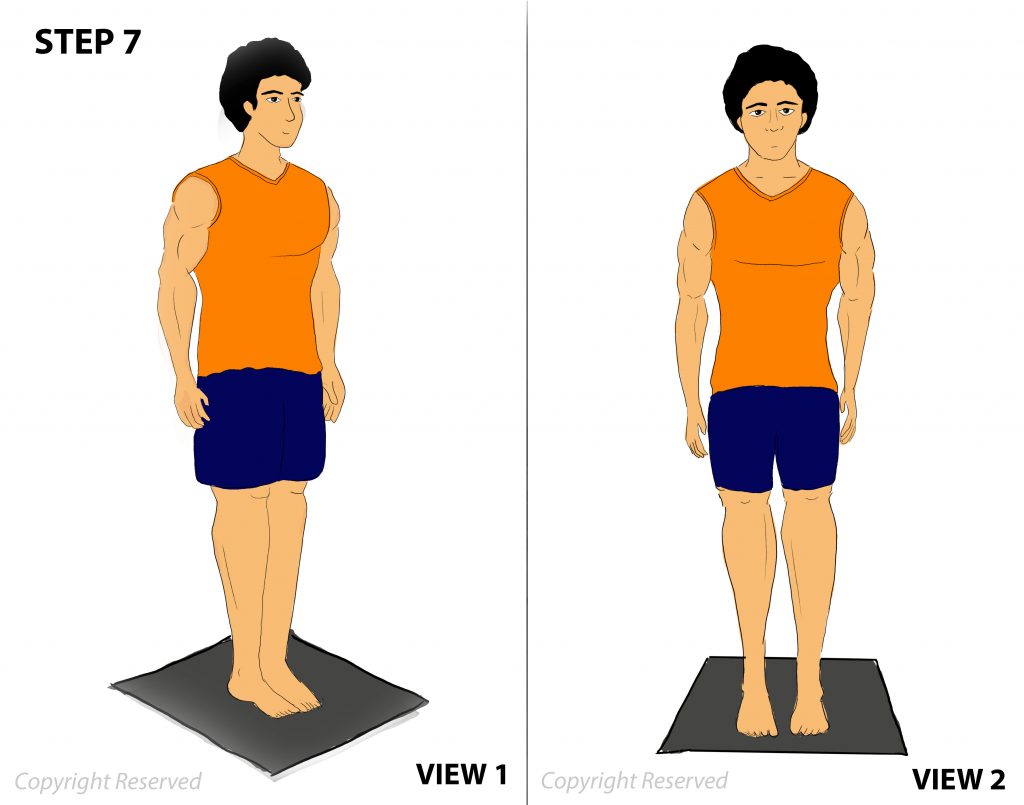 padahastasana step-7
Relax for some time as you complete the asana.

Preparatory Poses associated with Padahastasana
Here are the preparatory poses that you need to practice before you start performing Padahastasana or the hand to foot pose.
Paschimottanasana
Janusirsasana
Adho Mukha śvānāsana
Supta Padangusthasana
Performing Tips
Padahastasana is one of those asanas that help to increase the flexibility of your muscles and tone up your body. It can help to get rid of anxiety and stress. Padahastasana is known to be a very intense form of asana and so you should work within your flexibility instead of forcibly stretching your limits. It is also important that you perform this asana under the guidance of an experienced yoga teacher. As a beginner, you can also start with some of the preparatory versions of this asana before you start with advanced methods.
The science
Padahastasana helps you to work on your second chakra. The second chakra of your energy body is located right at the sacrum region. It governs creativity, intimacy, and positive relationships. The squeezing process associated with Padahastasana helps to activate the second chakra that can help you to direct the energy to the lower part of the body and increase the flowing of the associated energies.
Benefits of Padahastasana
Here are some of the distinct benefits of practicing Padahastasana.
Padahastasana helps to improve balance, flexibility, and posture of the body.
It helps to eliminate stress, fatigue, and anxiety by simply energizing the body.
It is extremely beneficial for people suffering from problems associated with throat and nasal regions.
It improves blood circulation particularly in the upper sections of the body.
It helps to increase concentration as well as enhances digestion and metabolism.
The asana tones and energizes the spinal nerves and muscles.

The digestive organs can be toned by regularly practicing this asana which ensures well functioning of liver and spleen.

The asana is highly beneficial for people who are suffering from abdominal bloating, gastric problems, constipation, and indigestion.

Padahastasana is extremely effective for removing abdominal fat.
It is a good practice for increasing height.
It gives a great stretch to thigh muscles.
It helps to increase the strength of the calf muscles and thigh muscles.
Precautions and contraindications associated with Padahastasana
Even though practicing Padahastasana offers a lot of benefits for the body, it does come with certain precautions and contraindications like all other types of asanas. These are described below in brief.
People suffering from conditions like hypertension and heart problems should not practice Padahastasana.

One should not practice this asana if he or she is suffering from an ulcer.

Those who are suffering from hip injuries, vertigo, knee problems, abdominal hernia, and sciatica should never practice this asana.

Padahastasana is strictly forbidden for people having lower back pains or any other kind of spinal problems.

Since overstretching can cause a major amount of stress on the thigh, knees, calf, and ankle thereby causing sprains, it is important that a person does not put too much of effort while performing it. Instead, the best thing to do is to increase the intensity of the practice gradually.
Practicing Padahastasana can provide you with a lot of great benefits for your physical and spiritual energy bodies. So start working on Padahastasana today to attain the best benefits.
References
Click Here
Click Here
Click Here
Click Here
Click Here
Click Here