Supta Vajrasana
Supta Vajrasana is an important form of Hatha yoga asana. It is an advanced form of vajrasana which means that the practitioner should first master it before attempting Supta Vajrasana. While this asana can offer numerous great benefits for the body and mind, it is often avoided by practitioners as it is painful and can be quite difficult to master. It is also known as Reclined Thunderbolt Pose.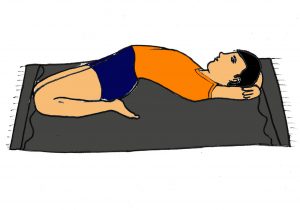 Supta Vajrasana

Steps of Supta Vajrasana
Here are the steps that you need to follow while performing Supta Vajrasana.
Firstly sit in vajrasana and then place your palms on floor just beside the buttocks; keep your fingers pointing perfectly to the front
Now slowly bend your back while placing your elbow and the right forearm on the ground over the left
Gently bring your head's crown to the ground as you arch your back. Keep the hands on your thighs.
Keep your lower legs in direct contact with surface of the floor. You can separate the knees if necessary.
Do not overstrain your leg muscles and ligaments while performing the asana
Close your eyes and try to relax your body. Keep breathing slowly and deeply in this final position.
Release your body in reverse order as you keep breathing in while taking support of your arms and elbows. Raise your head gently above the ground.
Shift your body weight on your left elbow and arm by gently sliding the body. Bring your body slowly back to starting position.
Under no circumstances leave your final position by first straightening your legs as it can dislocate your knee joints.
Repeat the process described above for about 3 to 5 times and then increase it to about 8 to 10 times when you are looking to master it.
Preparatory Poses
These are the main preparatory poses that you need to practice before Supta Vajrasana.
Bālāsana
Baddha Koṇāsana
Gomukhasana
Bhujangasana
Virasana
Follow up poses
Once you complete your practice of Supta Vajrasana, make sure that you perform these follow up poses.
Bakasana
Baddha Koṇāsana
Padmasana or lotus position
Tips for performing Supta Vajrasana
As a beginner, it is quite possible for you to find your thighs often sliding apart during the pose. In order to avoid such a problem, use a strap for binding your thighs together. You can also put a thick book in between your thighs. Nevertheless, it is important to remember that these can work only as short-term solutions. Make sure to pull your inner groins in the pelvis for both cases.
While the best time to practice Supta Vajrasana is during the early hours of the morning, you can also do so during the evening hours. Make sure that you keep your bowels empty before performing it. Maintain a gap of at least 4 to 6 hours prior to the asana.
It is important that practice Supta Vajrasana under the close monitoring of a professional yoga instructor.
The science of Supta Vajrasana
Supta Vajrasana can stretch your abdominal and pelvic regions which can help in resolving all kinds of digestive problems. The process of digestion itself can be improved through this asana. It also opens up one's pelvic area, chest and torso. The asana removes numerous discomforts from the body. Even simple problems like headaches and colds can be alleviated through this asana. The asana stimulates blood circulation in the thighs, hips, and knees, thus resolving the problems in those areas. It can also boost spinal flexibility. When practiced on a regular basis, this asana can work as a resting pose which can rejuvenate the whole body.
Benefits of Supta Vajrasana
Here are the main benefits of Supta Vajrasana.
Supta Vajrasana effectively massages abdominal organs thus alleviating various forms of digestive ailments like Intestinal gas, acidity, diarrhea and constipation.
The asana can assist in stretching and expanding the ribcage fully and this can make it possible for the lungs to expand to maximum capacity so that it can take in more oxygen.
It can tone the spinal nerves, realign the rounded shoulders and enhance flexibility of the back. The nerves located in the neck as well as the thyroid and the parathyroid glands are also stimulated.
The asana can boost courage and confidence of the practitioner.
It can loosen up one's legs and then strengthen them so that the person can become ready for performing meditation asanas that require extended sitting.
It is highly beneficial for people suffering from bronchitis, asthma and various other lung ailments.
It greatly enhances intelligence and creativity since it helps to increase blood circulation within the brain.
It regulates smooth functioning of adrenal glands.
Supta Vajrasana helps in stretching of the back muscles. It also separates individual vertebrae from others, thus releasing the pressure on discs. Many times the nerve connections leading from spinal cord are pressed in by the discs which lead to serious backache. However, this pose can resolve such a problem and make it possible for the discs to remain in their correct position.
The asana helps in removing disorders associated with reproductive organs in both men and women.
It helps to tone pelvic muscles as well as the sciatic nerves. It is also beneficial for women having underdeveloped pelvis.
It can strengthen the feet arches.
It can greatly help in eliminating aggression and anger to relax the mind.
It gives the knees, thighs, abdomen, deep hip flexors and the ankles a good stretch.
The asana is ideal for patients suffering from arthritis, flat feet, head cold, headache, insomnia and varicose veins.
Precautions and contraindications associated with Supta Vajrasana
These are the main precautions associated with the practice of Supta Vajrasana.
This asana should not be practiced by anyone who is suffering from high blood pressure or vertigo.
If you have a slipped disc or some serious ankle, knee, or back problem, then you should not practice this asana.
Pregnant or menstruating women should avoid performing supta vajrasana.
So now that you have learned about Supta Vajrasana, start taking steps to master this asana and reap the benefits from it.
References-